Oz-e-English Writing Years 5–6
Use Australia's most innovative writing program featuring explicit instruction

Fit more Australian Curriculum content into your day
Oz-e-English Writing Years 5–6 integrates key learning areas including Creative Writing, History, Business & Economics, and Civics through rich exemplar texts, writing tasks, discussions and activities.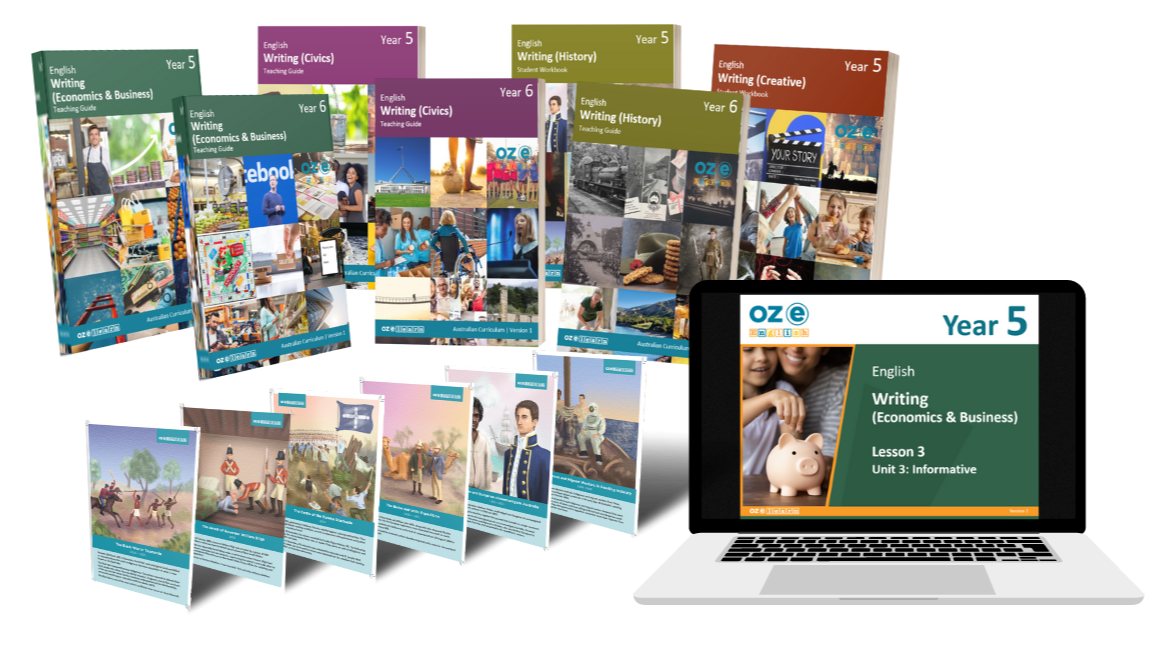 Access a Complete Toolkit of Ready-to-Deliver Lessons
• Classroom-Ready Lessons
• Assessment Framework
• Student Workbooks
• Teaching Guides
• Professional Teacher Learning Module.
Ensure your students master writing
Oz-e-English Writing Years 5–6 is built on evidence of how students learn best. The program uses automaticity, pacing, and continuous assessment of learning to ensure students master all concepts and skills. Progress tests and end-of-unit assessments enable teachers to track students and adjust their teaching to meet students' needs. Students reach their appropriate grade level and become confident and engaged learners.
Accelerate or extend learning based on student performance
Oz-e-English Writing Years 5–6 accelerates lower performing students, boosts higher performing students, and optimises learning growth in the least amount of time.
Close the gap in writing achievement
The explicit structure and sentence level approach enables schools to close the gap in writing achievement.
Our Story
Good to Great Schools Australia exists so that every Australian child, no matter their background, attends a school that develops their potential.
Time is short in the classroom and timetables are overflowing.
We developed Oz-e-English to build writing skills so that students effectively communicate to a variety of audiences what they know and think about the world around them. The cross-curricular links with HASS within each unit provide a launchpad for investigation into topics which become the basis of relevant real world writing tasks.
\Learnworlds\Codeneurons\Pages\ZoneRenderers\CourseCards
Subscribe to our newsletter now!
Get weekly updates on live streams, news and more right in your mailbox.
Great offer today!
50% OFF - Describe your offer here... - Use promo code #YYY
Are you a principal looking for school improvement support?
Click here to access the exceptional free offer we have for you.
Are you enjoying the teaching resources?
Click here to share free access with your school team.