Guugu Yimithirr Language Years F, 1, 4
Unit 2: Nganhthanun Bubu - Foundation Year Lesson 1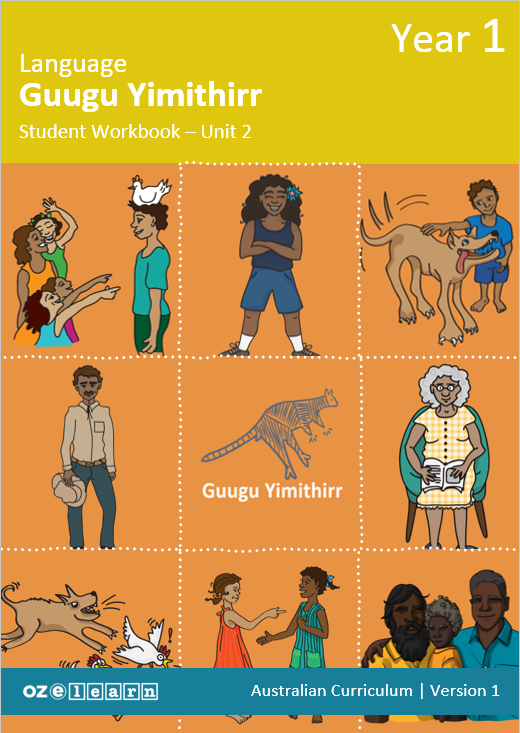 Lesson: A sentence with the number nubuun
Unit: Unit 2: Nganhthanun Bubu
Lesson number: Lesson 1 of 10
In this lesson, we will learn to:
say and make a sentence with the number nubuun.
Opening the Lesson
I Do
We Do
You Do
Closure
Copy link
Email lesson [automatically opens an Outlook email with subject: 'A sentence with the number nubuun' Email body: "Hi, check out this Oz-e-science lesson on 'A sentence with the number nubuun' + link to page]
Box 4: Complete this unit
Lesson 2: A sentence about looking and policemen.
Lesson 3: A sentence about the colours thalun and munhi.
Lesson 4: A sentence with the command miidaarra.
Lesson 5: A sentence about eating.
Lesson 6: A sentence about hot and cold.
Lesson 7: A sentence about being happy and angry.
Lesson 8: Say and make the command to speak in Guugu Yimithirr.
Lesson 9: Say and make a question with the word 'what' and answer it.
Lesson 10: Say and make sentences about being a child and jumping on a trampoline.
\Learnworlds\Codeneurons\Pages\ZoneRenderers\CourseCards
Subscribe to our newsletter now!
Get weekly updates on live streams, news and more right in your mailbox.
Great offer today!
50% OFF - Describe your offer here... - Use promo code #YYY
Are you a principal looking for school improvement support?
Click here to access the exceptional free offer we have for you.
Are you enjoying the teaching resources?
Click here to share free access with your school team.